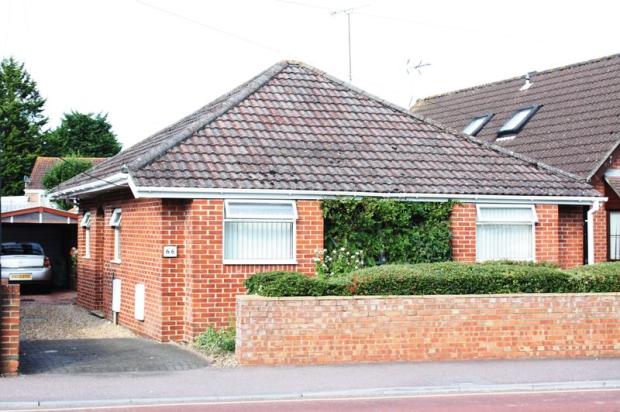 I can't believe the last article for our moving home diary was written on the 30th July. We called it 'Living in Limbo' and as we're just about to move into our new home - see picture on the left! - I'm going to report on just how tough that has been.
The facts of the story are simple, if not mundane. We eventually completed the sale on our village home in mid-September. Because of our previous experiences we decided not to look seriuously for a new home until we were absolutely certain the sale was secure. While that meant we avoided all the problems of being in a long chain, it also meant we've experienced a period of homelessness - of being 'of no fixed abode' - as we've searched for our new home. Then, despite the popular belief that we're operating in a house buyer's market, this has not been the reality of our experience. In fact it has been difficult to buy a property we could love - after all why would we make do with anything less? In an uncertain world, potential sellers are simply testing the waters, curious about the value of their home or put off themselves when they start looking seriously for their next home.
So we are now thrilled to be moving into our new home this coming week - the fourth property we made an offer on!
How to cope when you don't know what happens next
We owe many heartfelt thanks to friends and family who've allowed us to camp out in spare rooms or put up with impromptu visits. They've made a great difference as we've limped through this interim period. We know we've asked a lot - because the 'we' is not just Nigel and I but also our spaniel, Rufus.
We talk to so many people who go through difficult times on their own, we've frequently reminded ourselves how lucky we are to have each other's support and understanding. Even so, at times things have got on top of us. The most remarkable effect has been on our energy levels which have been much lower than usual. It has seemed difficult to keep even basic things going. As our time in limbo reaches an end, we've reflected on the lessons we've learnt:
When you are going through a period of change, keep as much of the rest of your life stable as possible. We managed this by keeping our relationship coaching business going. We set up an office and practice room in Romsey, where we've continued to see clients and develop our online self-help products
Tap into the support of those close to you. We've ignored the natural inclination to say we can manage and have gratefully accepted every ounce os support - especially when that has come in the form of distraction or fun!
Staying positive? At times we've just had to let off steam and complain about what's going on. The temptation is to take the other's complaint personally. One of our biggest learnings has been to allow ouselves and each other to say how we are feeling in the moment. In acknowledging this we've found it's easier to move onto a more hopeful and positive frame of mind. Deny the low moments and they keep coming back.
Keeping an eye on the bigger picture
We always knew that moving from Landford was more than a simple change of home. For the last 6 years we have also worked from home, building it into a calming venue which suppors the change work we engage in with couples. Moving home and workplace has signalled a potential change of focus on the direction of our business - an opporutinty to review what we do and how we do it.
We haven't reached any conclusions yet - but the opportunity itself has begun to renew our energy levels as we turn our eyes to the future.
The importance of good communication - what do you think?
Nigel and I have made many house moves before. This has definitely been one of the most difficult - logidtically and emotionally. Keeping our communication going and sharing the ups and downs has made all the difference.
If moving house has had an impact on your relationship, tell us your story below.